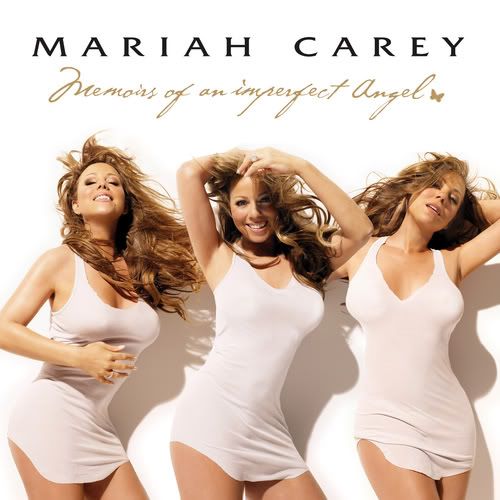 After somewhat disappointing sales of her last album, E=MC², which only moved 1 million units as opposed to the 6 million units of 2005's The Emancipation of Mimi, legendary songstress Mariah Carey returned with her twelfth studio album, Memoirs of an Imperfect Angel, on September 29th.

Despite being viewed as a commercial failure to most, it has to be noted that E=MC² was actually a really solid album that was only ruined by the single choices, as well as, Mrs. Carey-Cannon's promotion tactics, or lack there of, after wedding her beau Nick Cannon. A significantly superfluous feature that also seems to be riding the coattails of this project and its presentation to the record buying public.

Helmed mostly by hit-making duo The Dream and Christopher 'Tricky' Stewart, Memoirs is an intriguingly cohesive mix of love ballads and cheeky breakup cuts, that often forgets to display what is most important (her voice) and frequently feels like high school, which lacks irony consider she will celebrate her 40th birthday in March.

"Betcha Gon' Know":

Serving as a strong opening, this track sees the singer diving into scorn woman territory as she catches her man with a mistress and drives away allowing the pain to soak in. It is a really descriptive adventure that plays out like a story through her words with her deeming the situation so real that Oprah Winfrey would devote her entire segment to it. Perhaps one of the most intriguing moments is the end when she softly coos, "to be continued", hinting that revenge is dish that has yet to be served.

"Obsessed":

The cut, which is believed to be directed towards Eminem, gets cutesy in spots with her labeling him a "conversation" and referring to herself as a "press conversation", as well as, the deliverance of a soon to be classic line, "he's all up in my George Forman". Still, none of that can save it from being any less disappointing and failing to deliver anything more than any other standard R&B chick, which I might add could have been done better by most.

"H.A.T.E.U.":

An abbreviation for 'having a typical emotional upset', is a slower paced jam that sees the songstress confronting and struggling to let a lover part. It is lyrically engaging from start to finish and one of the things that shines through production is that it doesn't make all of her vocals come off so perfected, which makes it all the more believable.

"Candy Bling":

An extremely laidback track that sees the songstress recalling the feelings of a childhood romance over a sample of Ahmad's 1994 hit "Back in the Day". Not a bad track, but this is one of the prime examples of the ride becoming a little too youthful with the references to 'ring pops' and 'sweet tarts'.

"Ribbon" is extremely heavy on the production side and equipped with lyrics that are as creatively deep as the mind of a 2 year old, yet for some reason it still manages to excel, while the repetitive "Inseparable", deals with not wanting to be away from the one you love.

"Standing O":

A mid-tempo that dives into Rihanna "Take A Bow" territory as she applauds a cheating lover for wrongly, but successfully ruining a good thing.

"It's A Wrap":

A standout track that playfully and correctly plays off the previous offering, it has an old-school feel and vibe, but still manages to be very reflective of music today. Up to this point, it is definitely her most vocally pleasing moment and one of the few tracks that will actually sit well with her older fans.

"Up Out My Face":

It's hard to really say anything bad about this track, which is stellar and slightly hilarious at the same time. She has the confidence and sass to successfully pull it off, but it is another one of those times where you feel the singer is trying way too hard to be youthful. The reprise that follows is even more embarrassing.

"More Than Just Friends" is another laidback cut where the songstress presents a longtime friend with a question that has been burning in both of their heads, but never quite made it to the surface, while "The Impossible" is a slow jam that's a little too tame for its own good and eventually spurs into boredom, which can also be said for the reprise.

"Angels Cry":

Arising as the album's best offering, "Angels Cry" has all the makings of a traditional and classic Mariah Carey track, as it is both well-written and vocally-challenging, which the songstress knocks out of the park. Simply stunning.

"Languishing (The Interlude)":

The interlude is really beautiful in its lyrical content and melodic vocal delivery, while also rivaling some of her past contributions.

"I Want to Know What Love Is":

The Foreigner cover, which serves as the second single, closes the set on a solid, but flawed note. The ending is really nice, but the beginning can come across lazy and uninspiring on the songstress' part, but by no means a bad outing.

Final Verdict:

Memoirs of an Imperfect Angel does perfect a couple of things, such as, delivering an album that is both cohesive and radio-friendly, but the imperfections are even more frequent and common. Nothing close to a bad album, in fact, in context it is a step up from 2007's E=MC², but it easily divulges into repetitive territory and the youthfulness can often fail to demonstrate reality, which is ultimately the biggest imperfection.

In fact, if the disc was recorded in its entirety by a female in her twenties or early-thirties, then the rating would be substantially higher, but her cry to chase something that is clearly not there, insults her artistry and her fans.

One might argue that Mariah, who was criticized early in her career for coming off too old and now for being too youthful, can't win, but then 'The Emancipation of Mimi', which had a mature feeling while still remaining youthful and radio-friendly, serves as evidence that quickly defeats that statement.

With that said, although Mrs. Carey-Cannon has seen better days ('The Emancipation of Mimi', 'Butterfly' & 'Fantasy'), she has also experienced worse ('Charmbracelet' & 'Glitter' soundtrack), and Memoirs deserves placement in the first category rather than the ladder.

Celebrity Bug's Key Tracks:
"Angels Cry", "Ribbon", "It's A Wrap", "Standing O", "H.A.T.E.U." & "Up Out My Face".