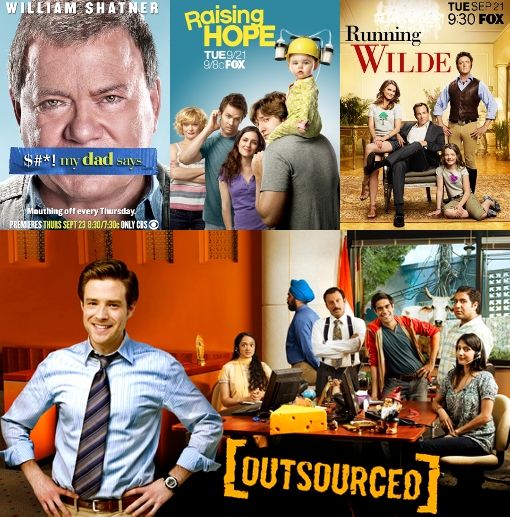 This season,
'Raising Hope'
,
'Running Wilde'
,
'Outsourced'
,
'$#*! My Dad Says'
and the previously reviewed
'Mike & Molly'
and
'Better With You'
, combine to make up the new comedies of fall vying for laughs.
'Raising Hope'

On FOX,
'Raising Hope'
, a new single-camera comedy courtesy of creator
Greg Garcia
, who was also behind
'My Name Is Earl'
, will air on Tuesdays.
Starring
Lucas Neff
as Jimmy Chance along with
Martha Plimpton
and
Garret Dillahunt
as his parents Virginia and Burt, the comedy is about a family whose son unexpectedly becomes a father, after a one night stand with a criminal.
Forced to take the baby in after the mother is sentenced to death, Jimmy's parents initially want him to do away with Princess Beyonce, given the family is already down on their luck, but Jimmy sees this as a light in dark tunnel.

He's always dreamed of more and in a lot of ways, for him, the baby represents hope and the chance to for his family to finally do something meaningful.

Among the action is his seldom lucid grandmother Maw Maw, played by the always hilarious
Cloris Leachman
, and while she and the rest of the cast are great, the show's strength can be found in the man that stands front and center.
'Running Wild'

Also airing Tuesdays on
FOX
is
'Running Wilde'
, a new comedy starring
Will Arnett
and
Keri Russell
, who is most known for her role in
'Felicity'
.
Advertised as 'when ego meets eco', Arnett is oil company heir Steven Wilde and Russell is his childhood crush Emmy, who now spends her days as an activist, much to the dismay of her daughter Puddle (
Stefania Owen
).
Puddle, who narrates the journey, desires a life as a normal girl beyond the village, and with the help of Steven and his rich neighbor, she devises a plan to get her mother to move in with Wilde and enjoy all the luxuries his life offers.

The first episode, which was revamped, tries hard to provide some laughs, but in actuality, it garnishes very few, given it simply fails to be funny.

That said, two things it does having working in its favor, is the reuniting of Arnett with
'Arrest Development'
creator
Mitchell Hurwitz
and its leading lady Russell, who still possesses a ability to universally connect with the audience.
Other characters include his neighbor Fa'ad (
Peter Serafinowicz
), his driver Migo (
Mel Rodriguez
) and his keeper Mr. Lunt (
Robert Michael Morris
).
'Outsourced'

In the new
NBC
comedy
'Outsourced'
, Todd (
Ben Rappaport
) is transferred to work in an India call center, after the local branch decides to downsize.
From that beginning moment until the last, the show consistently gets worse as it unfolds, which is surprising given it is surrounded by critically-acclaimed and
Emmy Award
-winning darlings
'30 Rock'
and
'The Office'
.
The negatives include the jokes about India, the cheap backdrop and the offensive, racial and cultural ignorance that is displayed throughout the pilot episode.

Those aside, the show's biggest problem is it fails to create a connection to the audience through its core characters, since it chooses to mainly focus on the jokes about India, which are even remotely funny or well-thought out.

'$#*! My Dad Says'

The newest addition to the
CBS
comedy line-up is
'$#*! My Dad Says'
, based on popular and profanely titled Twitter feed, where a son would literally post the outrageous things his father would say in his day-to-day life.
Starring
William Shatner
as Ed Goodson and
Jonathan Sadowski
as his recently out of work son Henry, the new comedy is held back by its weaknesses.
The most pressing problem is the jokes don't work as well as they originally did, because of censorship, which further reaffirms that this outing would be better suited on a cable network, where writers are allowed to be more forthcoming.

This problem is seen throughout the first episode, in which, Ed goes to reinstate his license at the DMV and Henry moves in with his off-the-wall father.

Unfortunately, the problems don't stop there, the jokes from the feed are not cohesively driven into the dialogue and its hard to envision, how the writers plan to bond the episodes with a connective thread, given the feed was random.

Other characters we meet include Ed's older son Vince (
Will Sasso
) and his hilarious wife Bonnie, played by comedy veteran
Nicole Sullivan
.
FINAL VERDICTS

One thing the new comedies of fall reinforce is that you can't judge a book by its cover, because while
'Wilde'
originally looked like the winner and
'Hope'
seemed dead on arrival, it actually emerges as the
'Best New Comedy of Fall'
.
The first episode of
'Raising Hope'
is not only well-acted by a likable cast, but it provides humor that in many ways you don't see coming, and the touching moments of sensitivity and inspiration make it all the more viable.
(A-)
'Running Wilde'
, on the other hand, is bland and un-engaging, and despite boasting the most talented cast of the new comedies, it further validates that acting can only get you so far, if the writing itself is in the pits.
(D)
'$#*! My Dad Says'
, is marginally better than
'Running Wilde'
, mostly due to the charisma of its star William Shatner and the fact that if the right plots are supplied from the writers, it actually has potential.
(C)
Still,
'Outsourced'
, is not only the
'Worst New Comedy of Fall'
, but is also the
'Worst New Show of Fall'
. There are absolutely no laughs and you immediately sense that the show, despite trying, is simply going no where.
(F)