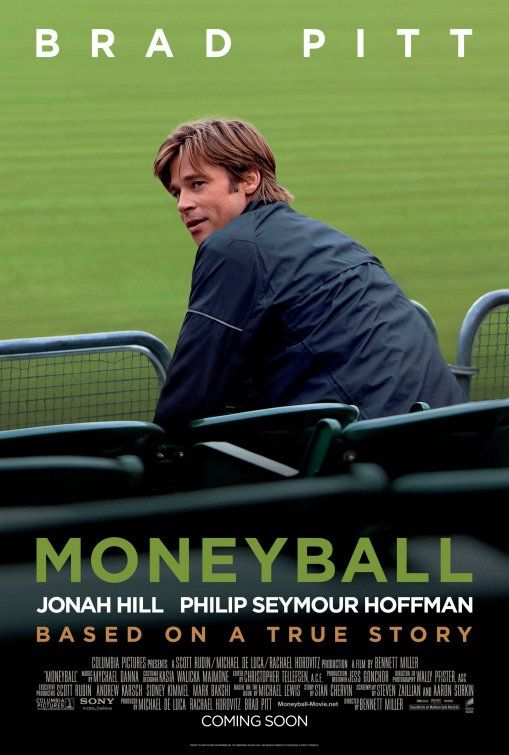 Brad Pitt
stars as Athletics' general manager Billy Beane in
'Moneyball'
, the story of the real life manager and his 2002 line-up that changed the game of baseball by drafting players based on statistics as opposed to just their skills.
SYNOPSIS & DEVELOPMENT
Based on the
Michael Lewis
book,
'Moneyball: The Art of Winning an Unfair Game'
, the film opens with actual footage from the 2002 playoff series, where the
Oakland Athletics
were defeated by the
New York Yankees
.
Added in with numbers that showcase that the Yankees had a $114 million budget, while the Athletics had less than $39 million, this is meant to demonstrate why the game is unfair and most importantly, that teams with bigger budgets simply have a better shot at winning.
Billy is completely aware of this as he enters the team owner's office to plead for a bigger budget, a request which is subsequently denied, however, through a visit to a rival team's office, Billy meets Peter Brand (
Jonah Hill
), a Yale graduate, who happens to view the game in a completely different way than coaches or scouts do.
With a losing season already in his path (due to the loss of his star players), Beane takes a chance and buys into Brand's approach of using computer analysis to draft players, and despite the fact that there are an array of valid reasons why Beane shouldn't draft the players on his list (bad legs, smoke weed, etc.), he is willing to overlook all of these flaws and focus of one single entity – the percentage of times the player gets on base.
This causes a ruckus amongst the professional scouts and the team's manager Art Howe (
Philip Seymour Hoffman
), who accuses Billy of ruining the team due to his own shortcomings as a player, but despite his career as a former player never reaching expectations, you never get the feeling that Beane is loaded with guilt or regret from those days.
Still, as the film progresses, the script highlights more of his struggles as a player and attempts to bring his personal life into the picture, which includes moments with his now remarried ex-wife (
Robin Wright
) and his young daughter Casey (
Kerris Dorsey
).
The scenes with Casey show a sensitive side to Billy, which can make you wonder if his demeanor in the office is merely a front, but more than anything, these scenes only add to the depth of both the film and its lead character.
PERFORMANCES
Pitt has long been underrated as an actor, spending much of his career trying to live down his two titles as Sexiest Man Alive, but here, he delivers another top-notched performance that should earn him should nominations in the forthcoming awards season.
Hill, who often seems as confused as he is smart, and Dorsey, who displays wisdom and skill beyond her years, both deliver spot on performances, while Hoffman is able to go head to head with Pitt during their characters' heated arguments and moments of tension.
Still, despite the strong supporting performances, it is clear from the very beginning who the star of the film is and Pitt simply knocks it out of the park.
FINAL VERDICT
Generally, films revolving around the game of baseball have not fared well with audiences or critics, but
'Moneyball'
takes a unique stab at the genre and with the help of
'The Social Network'
writer
Aaron Sorkin
(in addition to
Steven Zaillian
), it doe set itself apart from the pack in a memorable way.
You root for Billy Beane and the Oakland Athletics for taking a risk, and although it doesn't initially pay off, once they edge closer and finally claim the league's best winning streak, you can't help but take notice and respect the fight in the underdog.
It is a little too long, but knowing that the formula eventually worked (for the
Boston Red Soxs
) and witnessing Billy's commitment, is a rewarding and satisfying ending.
Let Us Know Your Thoughts / Comments About the Movie?