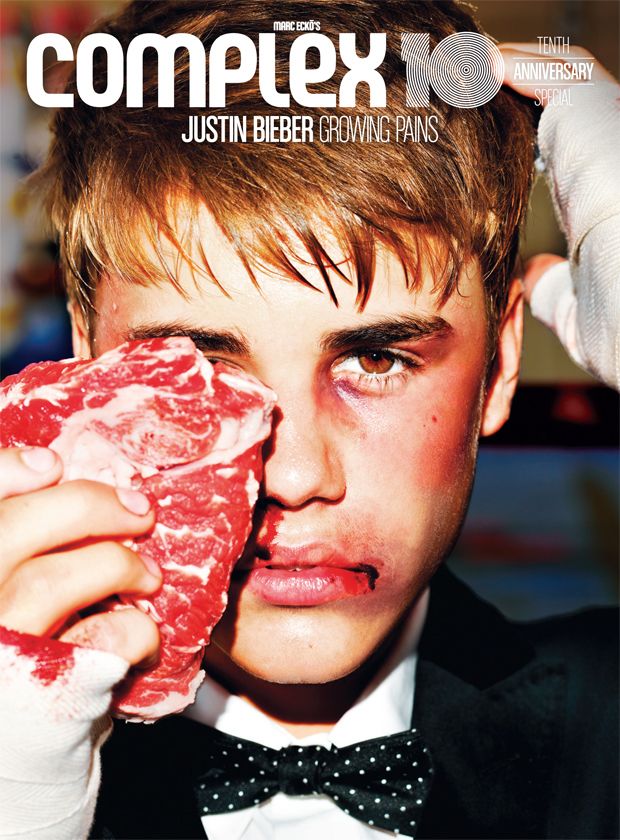 Pop
heartthrob
Justin

Bieber
takes a punch as he covers the 10th Anniversary issue of
Complex
magazine,
where
he talks about wanting to achieve greatness with his new music, his relationship
with
Selena
and his
distaste for the
paparazzi.
Love the concept behind this photo-shoot.
The 18-year-old is currently prepping the release of his new
album
'Believe'
,
which
will be preceded by the lead
single
"Boyfriend"
. More creative shots from the
Tony Kelly
-shot spread after the
cut:
On His Music Plans:


"There's no point in doing this if I'm not going to be the best. I give up a personal life. I give up my friends and family to pursue what I love and to make my fans happy. Why would I give up so much to be just another singer? I feel like it's my responsibility to be the greatest I can be. If I start making terrible music, I don't expect people to like me. If I'm making great music and there's no reason for people to dislike me, that's when it's going to make me upset. People just need to take a chance and listen. If they don't want to take a chance, then I don't know. That's going to be the biggest problem, to make them feel like it's cool for them to like my music."



On Selena Gomez:


"There's no way to hide the relationship completely, because then it would be unfair to us. It's like, 'You take this car, and I'll take this car, and then we'll meet up at the spot. Then, you go in this door, I'll go in this door. We'll end up crossing ways. You get back in this car. We'll cross over, do a James Bond. You go through the kitchen. I'll go through the back area. Then we'll meet in the dressing room and see each other.' At that point, it's not even a relationship. You're just hiding from everyone. That's unfair and unhealthy, man."



On His Distaste For Paparazzi:


"I'll be covering my face and it pisses me off so much when people say, 'Get over it, Justin. You're famous. People are going to take your picture. Suck it up, you're rich…' It's like, 'Yo, I just got off an eight-hour flight. I'm tired and my eyes have bags under them. I'm not trying to take pictures. I'm not going to come to your house, wake you up, and start snapping your picture.'"