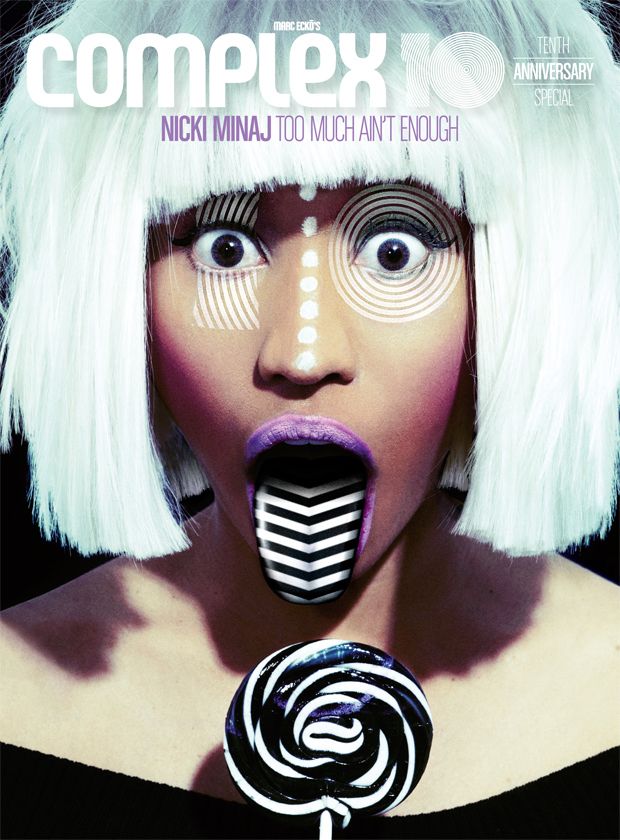 Adding a dose of spice to the magazine's 10th
Anniversary issue,
Nicki

Minaj
is featured on the alternate cover of
Complex
magazine and as usual, the rapper lets her wild personality and style invade the
Christian Anwander
-shot spread.
The
cover
is
a
part
of a gigantic promotional
campaign,
which includes
numerous magazine covers and a multimillion dollar Pepsi deal, for
her
second
album
'Pink Friday: Roman Reloaded'
, due in stores on April 3rd.
More
unique
shots
below:
On What Wows Her:


"If I wasn't doing it, I wouldn't believe it's possible. I remember when I was working with Jay-Z. It was like, "Oh my God. Did I really just do a song with Jay?" I worked with Mariah and it wasn't commercially successful. But I had fun and I made a real friendship with her. It was, obviously, a life-changing moment for me. It does feel like every moment is getting bigger and bigger. Not only did I get a call to do a song with Madonna, but then I got a call to do a video with Madonna, and then—oh, by the way—you're going to do the Super Bowl with Madonna. This is not really happening.'"



On Her Brand:


"I didn't know who I was as an artist. I knew who I was as a person. My morals and everything, they're still the same. And then I took it upon myself to create this artist, Nicki Minaj. I wanted to do what a label cannot do. Now, labels are going to think they can re-create this. [Laughs.] But they can't."



On Feeling Like the Smartest Person in the Room:


"I meet people that are smart every day. I love collaborating with creative people. I'm not walking around saying I know everything. Hell fucking no. I want to build something. I just don't allow anyone around me who drops the ball constantly. I've never been happier with my current management, because Gee Roberson is such an intelligent man. I learn from him every day, and I'm very, very turned on by people that I learn from. Not sexually—I just love being enlightened. All artists should want to learn the business as they go along. If you're in this s**t, talking about how you just want to be an artist, you're f**king stupid. It makes me cringe."