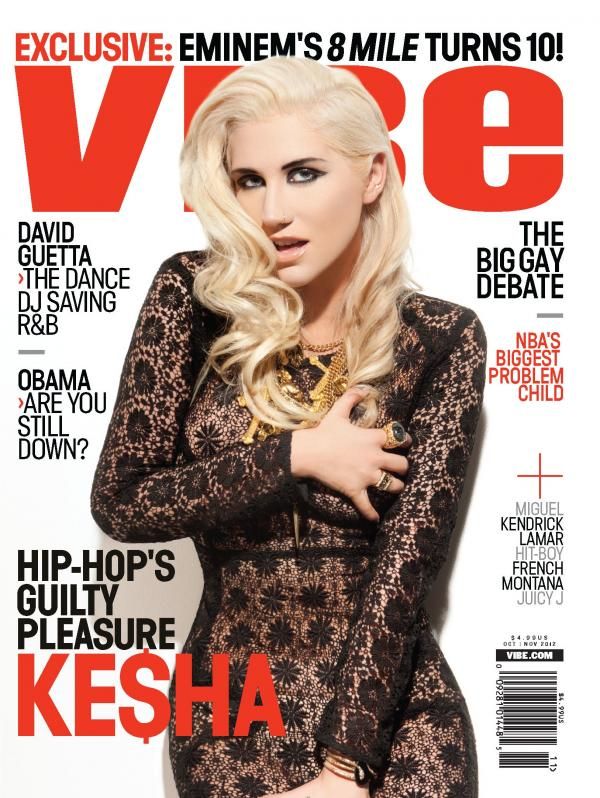 Making history as the first white female artist to land a solo cover on the publication,
Ke$ha
is featured on the October/November cover of
VIBE
magazine.
While
Amy Winehouse
posthumously appeared on the magazine in 2011 and
Gwen Stefani
shared the honor with
Pharrell
in 2005, she becomes the first living white female artist to score the cover, marking a milestone. Quotes and photos beneath:
On Her Childhood:
"I came from a single-parent home, my mom had a nose ring and tattoos, and I'd make my own clothes. People just thought I was a f***ing freak."

On Her New Album, 'Warrior':
"The first record was a celebration of partying and being young, but this record's a better look at my personality. Whatever, I drink like a champion. But I can also do other stuff. I have a sense of humor about my lyrics. I'm not a train wreck, I'm just having fun."

On Her Spending Habits:
"I'm not frivolous, I never go shopping, and I love cheap costume jewelry. An underlying theme [of my first album, Animal] was how you can be broke and still have fun. Money doesn't determine whether I'm happy. But it's really fun to get light-up shoes."