Pop star
Lady GaGa
has unveiled the plans for her upcoming tour,
The Monster Ball
, as well as, some promotional pictures from the upcoming extravaganza.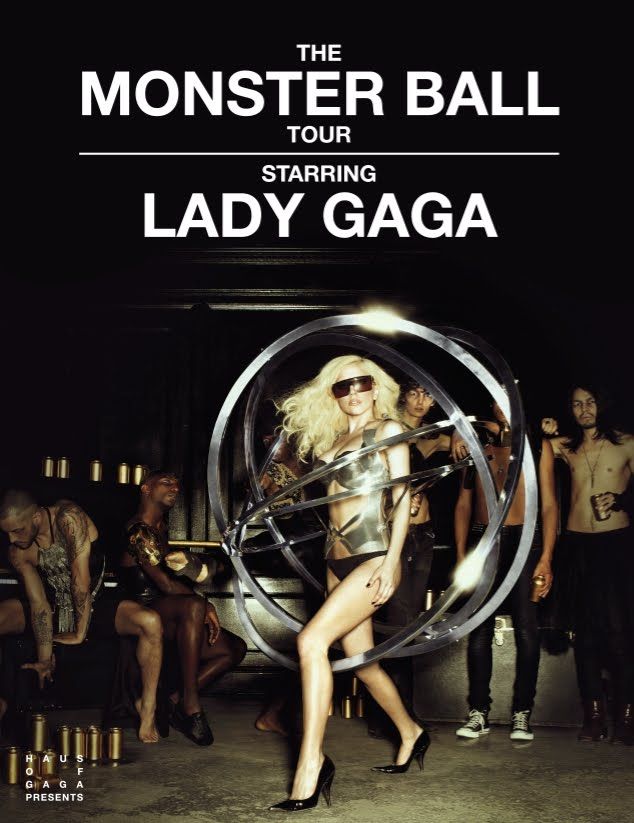 Just two weeks after Lady GaGa's Fame Kills Tour with Kanye West was cancelled, the ambitious pop star announced plans for an unprecedented "multimedia artistic experience" called The Monster Ball. The show was originally slated to premiere in London in early 2010, but the singer rallied her Haus of GaGa and is set to launch the trek on November 27th, four days after the release of The Fame Monster. Rehearsals for The Monster Ball begin next week and details about the show have been scarce until now. Lady GaGa revealed the tour's theme, stage design and plans for The Fame Monster in an exclusive interview with Rolling Stone. For more details on the tour, see our story in the next issue, on stands October 28th.

Can you talk about the songs on The Fame Monster?

This is a new album. It's eight songs, I could have put more songs on it, but I just decided not to because I thought they fit beautifully together. I'm really excited about all my new work, and I've been going through some really wonderful times and some really rough times all at once, so it's been really good for my artistry. On the re-release, I wrote this song called Speechless, which I think is the best song I've ever written. It's about my dad, it's a really beautiful ballad. It's piano-driven, and there's no beat on it, it's all live instruments. I produced it with Ron Fair, so we did a full live orchestra, recorded everything with live drums, live guitar and bass with me playing piano. We got that really organic, delicious feeling.

What was the thinking behind The Monster Ball?

I wanted to really put together a show that would be the most beautiful, expensive-looking, delicious show, but that my fans wouldn't have to pay a ton of money to come see. So we're playing a few nights in a row. I've got super loyal fans, so I feel this tremendous obligation to take care of them.

You said it was a pop-electro opera.

Yeah. It's the first ever, so it's really whatever I want it to be. The theatrics and story elements are in the style of an opera. Imagine if you could take the sets of an opera, which are very grand and very beautiful, and put them through a pop-electro lens. The design of the show is very, very forward, very, very innovative. I've been thinking about ways to play with the shape of this stage and change the way that we watch things. So what I've done is I've designed a stage with Haus of GaGa that is essentially a frame with forced perspective, and the frame is put inside the stage.

It's got kind of a triangular inset, like a diamond, and everywhere we're playing, the dimensions fit this box that I'm bringing, so it's this giant box that fits into every show. So no matter where I go, my fans get the same experience. So often you go into theaters and there's ambient light flying in from all sorts of places, and the audience is in different spots, and the stage is in different shapes and lengths and widths and depths, so this is a way for me to control all the light and all of the different elements of the show. The theme of the show is evolution.

How will that theme express itself?

Each one of these songs on my album represents a different demon that I've faced in myself, so the music is much more personal. I don't write about fame or money at all on this new record. So we talked about monsters and how, I believe, that innately we're all born with the monsters already inside of us — I guess in Christianity they call it original sin — the prospect that we will, at some point, sin in our lives, and we will, at some point, have to face our own demons, and they're already inside of us. So we talked about growth, and that led us into this kind of scientific space, and we started talking about evolution and the evolution of humanity and how we begin as one thing, and we become another.

This is the first time you've had the resources to do a tour the way you wanted. You've visualized ambitious things before, but you probably weren't able to do it to this extent.

No, I couldn't, but there was one major ingredient that was missing, and that's my fans. Now, I have the inspiration of my fans, and I know what they want. I think there's a lot of artists that are very self-serving, but I'm not one of them. When I create and make music, I make music that my fans want to hear. My record label didn't want to put out that photo that's my album cover, with the brown hair.

They found it too confusing?

It was World War III. They were like, "It's confusing, it's too dark, you look gothic, it's not pop," and I said, "You don't know what pop is, because everyone was telling me I wasn't pop last year, and now look — so don't tell me what pop is, I know what pop is." It's funny, because I fought and fought and fought, and I actually ended up having two covers, because I wanted to do this yin and yang presentation with the covers. When I go to see what my fans are saying, I go onto GagaDaily — they see the cover and say, "I don't really like the blonde one, but the brown one is fucking sick. They love it, and I know what they love, so I make it for them, I don't care what anybody else wants.

Were there elements of the Fame Kills Tour with Kanye West that were going to be in The Monster Ball?

I'm certainly inspired by what we were doing, but I made a decision based on integrity not to use any of the things that we had designed together.

So it's the great lost tour, then.

Yeah, probably. I guess that's kind of perfectly epic, isn't it, though? Isn't that exactly what's supposed to happen? It just wasn't the right timing. I don't want to embellish on it too much, because I want to respect Kanye's privacy. But we just had our own reasons. We're real friends, real friends can make decisions like that, and we wanted to keep the momentum going in terms of pop music staying innovative with hip-hop and R&B, and we really wanted to do it, and it just wasn't the right time. But who's to say what will happen in the future?

Is this tour going to include the band and dancers we saw on SNL?

It's going to be much bigger, but I love my guys. My dancers that are with me now have been with me for two years. I just shot a music video for Bad Romance and the Haus of GaGa did the whole art direction for it. We worked with Francis Lawrence, he's a movie director, and he almost never does music videos anymore, and I'm really impressed, even with myself — it's so amazing. That's another thing that keeps me going, when you have moments of adversity and challenge in your life, you have to dig deep. It's my music and my sadness that runs into one another and mutates and gives me the ability to make new things.

Have you already begun to plan the show's fashion?

The fashion, certainly, is going to be another exploration and another level from where we were with the Fame Ball. The theme of monsters is certainly going to be an influence, as well as the theme of evolution and change. It's going to be a truly artistic experience that is going to take the form of the greatest post-apocalyptic house party that you've ever been to.