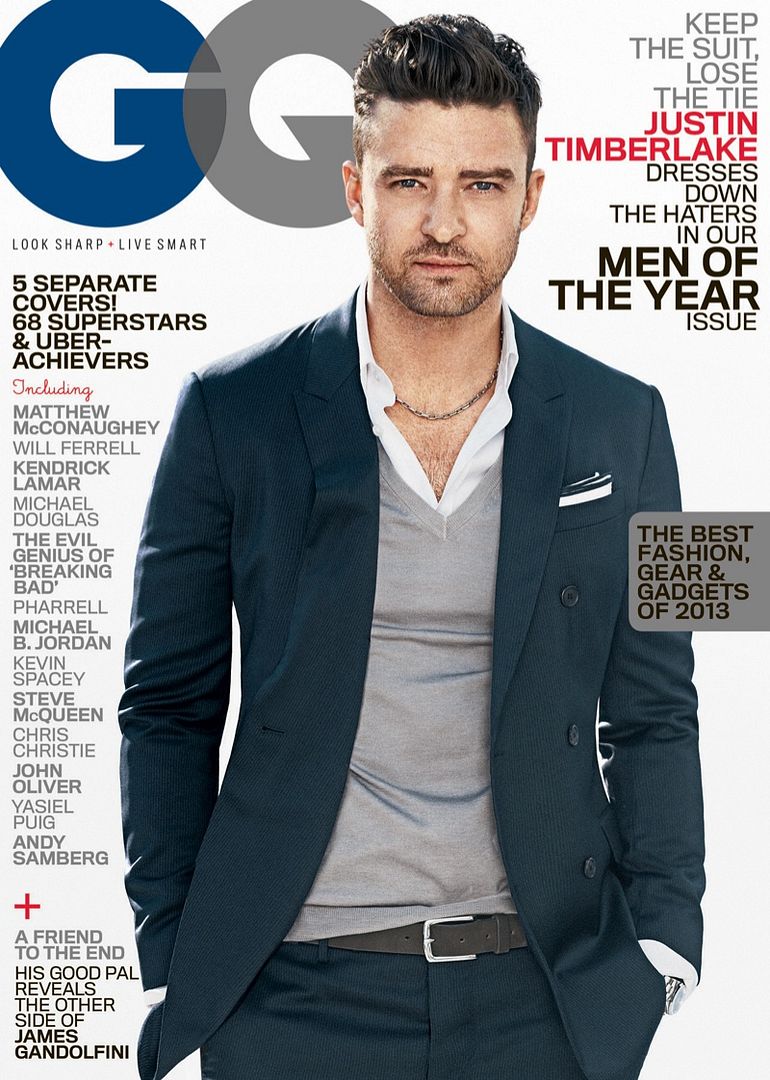 Taking his well-deserved place as one of
GQ's Men of the Year
, talented superstar
Justin Timberlake
, who return to the top of the charts this year with
'The 20/20 Experience'
, graces the one of the five December covers for
GQ
magazine.
The handsome 32-year-old is named the
#Hashtag of the Year and joins fellow cover stars Matthew McConaughey, Kendrick Lamar, Will Ferrell and the late James Gandolfini, where he discusses his reputation, Memphis and his acting career.


On His Reputation: "I don't see myself as someone who's ever going to be defined by one moment. It's on to the next."

On Growing Up in Memphis & His Critics: "It's a struggling city with a defeatist attitude. I'm from this town, and I grew up with a little bit of a chip on my shoulder, so sometimes I find it funny that I've been able to acquire the patience it takes to be kind to people in our business. Because sometimes I just want to (expletive) kill everybody."

On Negative Reviews of 'Runner Runner': "This recognizable face that you work so hard to get, not because you want the recognition but because you know you're made to do it. The movie didn't do well at the box office, so I should quit? Hold on a second. If I was somebody else, you wouldn't have said that. I have the number one album this week, and I shouldn't have released it? Come on, man. You sound like a (jerk). It just shocked me because, like, you're trade magazines. None of your opinions count. And by the way, none of you can do it."

On His Upcoming Role in Coen brothers' film, 'Inside Llewyn Davis': "You do a Coens movie and secretly you're like, 'All I want to do is make people laugh in this movie. If I can make people laugh in this movie, then I don't care. Whatever else happens, happens.' "