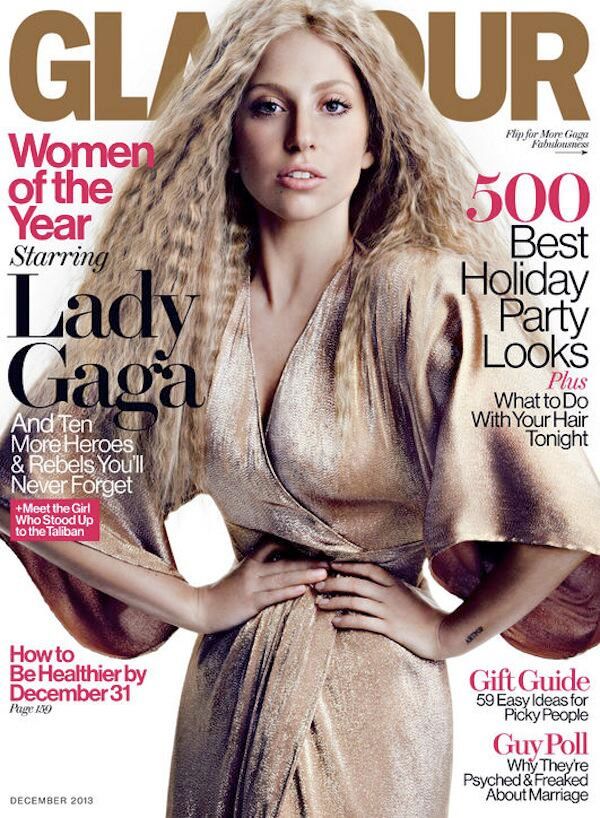 Looking better than ever,
Lady GaGa
appears on the December 2013 cover of
Glamour
magazine, where she is honored and named as one of the publication's
Women of the Year
for helping to make the world a more tolerate place.
In the interview, which was conducted by Andy Cohen, the pop superstar dishes on whether she considers herself beautiful, how she feels about her predecessor
Madonna
, her confidence and her artistry. Read excerpts from her chat beneath:
On If She Considers Herself Beautiful:
"Not conventionally beautiful. If there was some sort of mathematical equation for beauty, I don't know if I would be the algorithm. I've always been OK with that. I'm not a supermodel. That's not what I do. What I do is music. I want my fans to feel the way I do, to know what they have to offer is just as important, more important, than what's happening on the outside."

On Madonna:
"Who's to say I'm anything like her at all? Who's to say that my ambitions are even the same as hers? Who's to say I'm not an entirely different person? Because I am. You have to understand, I was a waitress five years ago."

On Being Confident:
"I'm confident in who I am. I've come to a place in my life where I've accepted things that are me, as opposed to feeling pressure to explain myself to people around me. That's just the way I've always tried to be. It didn't change when I became a star."

On Her Artistry:
"An artist is the only thing I want to be. I only want my freedom and my creativity. It's all that I live for. I reject the idea that I have to take all [the costumers and makeup] off to be f***ing authentic."