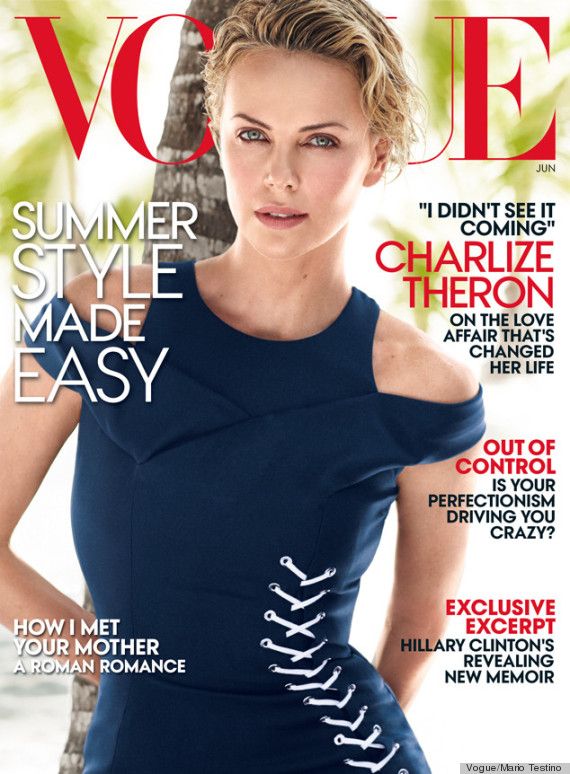 Academy Award
-winning actress
Charlize Theron
, who was crowned
2013's Most Beautiful Woman
, puts her stunning looks to work by gracing the June 2014 issue of
Vogue
, which is scheduled to grace newsstands on Tuesday, May 27th.
In the new issue, the beauty, who next stars opposite
Seth MacFarlane
in
'A Million Ways to Die in the West'
, opens up about her love life including her beau
Sean Penn
, her thoughts on marriage and how he won her over. Read excerpts beneath:
On Rumors She's Dating Sean Penn:
"Look, we're dating, and I don't think we were trying to hide anything."

On The Media's Fascination With Her Personal Life:
"I recently did a daylong press junket, which I hadn't done in forever, and it's a harsh reminder that whatever people try to hide a press junket behind, it's really a roundabout way of getting at as much private sh*t as they can. It was all about what I like to eat and avoiding questions about Sean."

On Marriage:
"I really do understand the importance and what that ceremony represents to so many people, but it's just such a personal thing. Let's put it this way: I never had the dream of the white dress. And watching other people getting married? I think it's beautiful for them, but to be quite honest, usually I'm sitting there just devastated. It's supposed to be this night of celebrating love, and all you see is a couple separated all night making sure everybody else is OK. It just looks like a lot of work. And as you get older, you start sifting through the stuff that really matters."

On Going From Friends To A Relationship With Sean:
"Going about dating in your late 30s is such a different ball game. I know so well what I want to fit in my life. And the simple answer to that is: Unless he can make my life better? My life is really pretty f*cking good. What I guess I am trying to say is: A friend kind of stepped into that role, and I really didn't see it coming. Sean and I have known each other for eighteen years. We were just really good friends. And it's been slow going because you are aware that you could screw that up and lose it. We had to think about it. But at the end of the day, it was somewhat effortless. It just kind of naturally happened, and before I knew it, I was in something that was making my life better - the people who really love me can see the effect it has had on me."